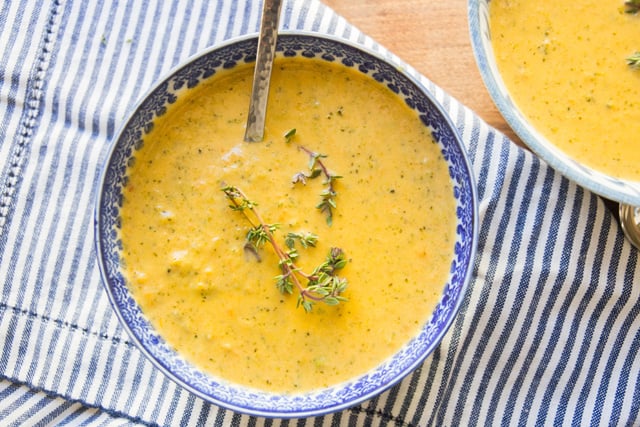 Ingredients
1 tablespoon olive oil
1 small yellow onion, chopped
2 celery stalks, chopped
2 garlic cloves, chopped
1 tablespoon fresh thyme leaves, finely chopped
3 cups vegetable broth
2 large carrots, peeled and chopped
1 lb broccoli florets (4 to 5 cups)
1 teaspoon salt
¼ teaspoon pepper
¼ teaspoon garlic powder
Pinch of red pepper flakes
½ cup heavy cream
8 oz sharp Cheddar cheese, grated
Directions
Press "Sauté" button repeatedly until it reaches the "Normal" setting. Warm oil and cook onion, celery, garlic, and thyme leaves until softened, 2 to 3 minutes.
Press "Cancel" to turn sauté mode off.
Stir in broth, carrots, broccoli, salt, pepper, garlic powder, and red pepper flakes.
Close pot lid. Turn steam valve to "Sealing" and press "Pressure Cook" button. Use the Up and Down buttons to adjust the time to 5 minutes.
Turn the steam valve to "Venting" to quick release the pressure.
Blend soup until partially smooth but not completely pureed.
Stir in heavy cream and cheese until melted.