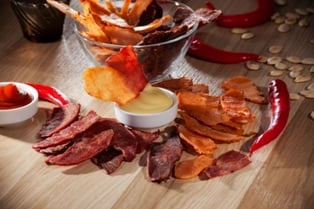 Ingredients
2 pounds beef round steak, cut into thin strips
1/4 cup soy sauce
2 tablespoons Worcestershire sauce
2 tablespoons liquid smoke
2 tablespoons brown sugar
2 teaspoons salt
1 teaspoon ground black pepper
1 teaspoon meat tenderizer
1 teaspoon garlic powder
1 teaspoon onion powder
Directions
Place beef strips in the bottom of a large bowl. Pour all remaining ingredients over the beef. Mix to assure all the meat is evenly coated. Cover and marinate in the refrigerator for 8 hours or overnight.
Remove the meat from the bowl and place between two pieces of plastic wrap; pound to 1/8 inch thickness.
Arrange the meat strips on the tray of a dehydrator and dry at the highest heat setting until done to your liking, at least 4 hours. Store in an airtight container or resealable bag.