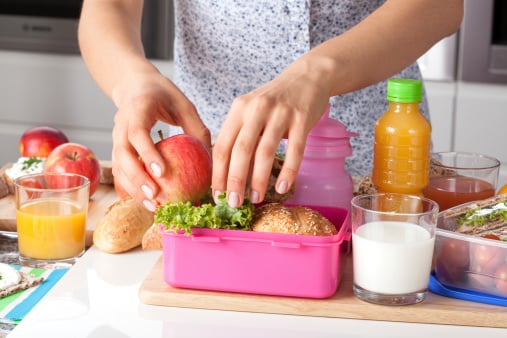 Time is always escaping us, especially during the work week. Most of us barely have time to grab a cup of joe and pass out breakfast bars to the family before running out the door every morning, let alone make a healthy and filling lunch. So when lunchtime comes, everyday it seems to be the same debacle: head out to a restaurant and spend money you could be saving or bring a hastily thrown-together lunch from home?
Here is the trick to weekday morning success: Dedicate some time the night before to making a grab-and-go lunch that you will look forward to eating come noon on Monday. Finding 20 minutes while you watch your favorite show or listen to music to prepare a savory next day work meal is a time and money saver. Magic Chef put together some simple recipes to help your prepping process:
1.) Pita Pizza
Preheat oven to 400° F. On a baking sheet, lay two pita bread rounds and spread 3-4 tablespoons of canned pizza sauce onto each pita round.
Top with mozzarella cheese and any topping of your choice. Place in oven for 7 minutes. Once cool, cut each pita into fourths and store in a microwave safe container in the refrigerator overnight. Heat them in the microwave at work or enjoy them cold!
2.) Smashed Chickpea Salad Sandwich
Drain and rinse one 15-oz. can of chickpeas. Combine in a medium sized bowl: rinsed chickpeas, sliced black olives, chopped red onion, fresh parsley and juice from half of a lemon. Mix well. Take a potato masher (or fork) and lightly mash the mixture until all ingredients are bonded together.
Mix in a few tablespoons of olive oil. Salt and pepper to taste. Spread mixture onto your choice of bread or cut some pita slices to bring along with the smashed chickpeas in a compartmentalized container. Refrigerate overnight and enjoy next day.
3.) Chopped Salad To-Go
Combine your favorite veggies and meats, chopped small, and refrigerate. Since you will be eating from the same container you are storing the salad in, choose an easy-store glass or plastic container
with plenty of room to stir. Pack dressing in a separate container or small plastic baggie so ingredients don't become soggy overnight. This is a great recipe for getting rid of any veggies or lunch meat leftover throughout the week. We like to include:
Lettuce (any type)
Bell peppers
Grape tomatoes
Broccoli
Mushrooms
Shredded carrots
Cubed or shredded cheese
Ham or turkey
Hardboiled eggs
4.) Hummus Wrap
Take a multigrain wrap or tortilla and spread a ½ cup of hummus generously. Cut tomato slices, carrots, cucumbers, and alfalfa sprouts and position down the center. Roll the wrap with ingredients, cut in half and store in the refrigerator overnight to grab in the A.M.
5.) 20-minute Chicken Barley Soup
Bring 1-cup uncooked "quick cook" barley and 3 cans (14 oz.) low sodium chicken broth to a boil. Reduce heat and simmer 5 minutes.
In a separate large pan, heat 1 tablespoon olive oil over medium heat. Add 1 cup chopped onion and sauté for 3 minutes. Add 1 package of any frozen mixed veggies of your choice, sauté 2 minutes. Remove from heat and add
to barley mixture along with 1 cup pre-cooked chicken, ¼ teaspoon salt, thyme and black pepper. Simmer 4 minutes. Cook without the chicken for a veggie-only option. Since this recipe yields 4 servings, pack lunch sized portions in microwavable containers and store in the refrigerator or freezer. Heat in the microwave during the week and dig in.