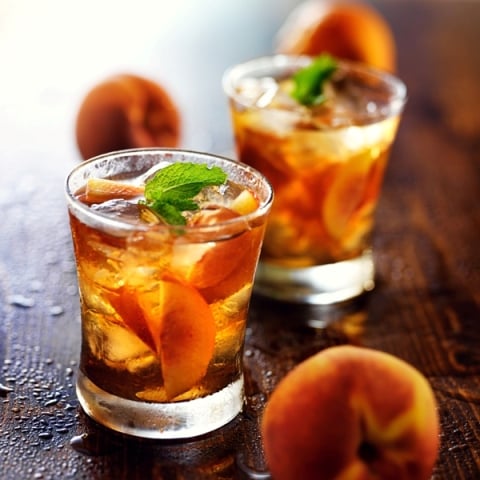 Ingredients
1 cup sugar
9 cups water
2 ripe peaches, thinly sliced
3 tablespoons loose leaf black tea or 4 tea bags
Whisky
Ice
Garnishes: extra peaches, mint (optional)
Directions
In a small saucepan, bring the sugar, peaches and 1 cup of water to a boil. Once boiling, lower the heat and stir, making sure to crush the peaches to infuse the flavor.
Once the sugar has been completely dissolved, remove the saucepan from the heat and let steep for 25-30 minutes. Once the peach syrup has steeped, use a fine mesh strainer to strain the peaches out. Set aside.
Brew your tea with the remaining 8 cups of water and don't let it steep for longer than 4-5 minutes so it doesn't get bitter.
Once your tea has brewed, strain the loose leaf tea out or remove the tea bags. Transfer the tea to a pitcher and refrigerate.
Once the tea has cooled, add the peach syrup mixture to the pitcher and stir.
To serve, fill glass with ice and add ½ shot- 1 shot of whisky. Fill the rest of the glass with the peach iced tea and garnish with fresh peaches and mint.