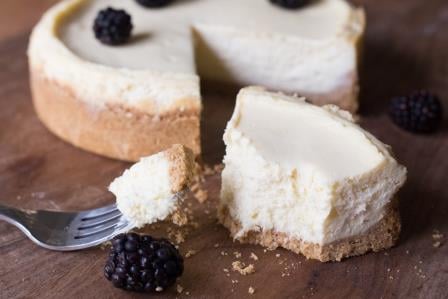 Ingredients
10 graham crackers
4 tablespoons unsalted butter, melted
1 tablespoon dark brown sugar
Pinch of salt
16 ounces cream cheese, room temperature
½ cup sugar
â…" cup sour cream or plain whole milk yogurt
2 teaspoons vanilla extract
2 large eggs, room temperature
Directions
Preheat oven to 350°F.
Place graham crackers in a food processor and process until crackers are sandy crumbs. Drizzle in butter, dark brown sugar, and salt and pulse to combine.
Pat crumbs into the bottom of a 7-inch push pan or springform pan, starting by patting the crumbs down in the center first and then pressing them 1 inch up the sides. Bake until golden brown, about 12 minutes. Transfer to a wire rack to cool.
Wipe crumbs out of the food processor. Add cream cheese and sugar to food processor and process until mixture is very smooth, 2 to 3 minutes. Add sour cream, vanilla, and a pinch of salt and process again until smooth. Process in the eggs, one at a time, adding the second as soon as the first is incorporated.
Pour filling into the crust. Cover the pan tightly with aluminum foil.
Fill pressure cooker with ½ inch of water. Place trivet in the pot with the arms folded down. Lower cheesecake onto trivet using a homemade sling.
Close pot lid. Turn steam valve to "Sealing" and press "Cake" button repeatedly until the time reads 40 minutes.
Turn steam valve to "Venting" to quick release the pressure.
Lift the pan out of the pot and transfer to a wire rack. Remove the foil. The center of the cheesecake will still be wobbly, it will set as it cools. Allow cheesecake to cool to room temperature, about 1 hour.
Chill cheesecake in refrigerator for at least 4 hours but preferably 12. Use a paring knife to cut along the sides of the cheesecake to release the cheesecake from the pan. Cut into 6 to 8 slices and serve.